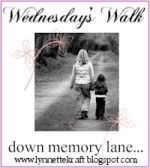 If you would like to participate in Wednesday's walk down memory lane or read other posts about memories, click on the button above.
Easter 2004 was such a joy. Erin was only one year old, so she willingly wore whatever I put on her. Her mamaw bought her this beautiful Easter dress.
She couldn't quite walk yet, so Daddy had to hold her hand to model the dress. She loved the ribbons that dangled down the front of the dress.
She even learned to use the remote on that day. (Ha! She still can't use the remote. I won't teach her).

The Easter Bunny must have come while we were at church, because when we got home, there was an Easter basket for Erin. She didn't like the "grass" and couldn't figure out how to open the plastic eggs.
But she loved the little pink bunny that she got in her Easter basket.
And this is one of my favorite Erin/Mommy pictures ever.