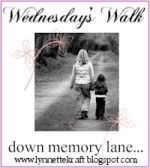 If you want to participate in Wednesday's Walk Down Memory Lane, click on the button above to visit Lynette Kraft's blog. You can link your memory post there or view others who have posted their favorite memories.
Since it's almost Easter, I'm doing Easter memories. Last week I wrote about Easter 2004 when Erin was about 1 year old. Click
here
to read it if you haven't seen it yet. See how she's changed from a one year old to a two year old.
Erin had her first Easter Egg hunt at church in 2005 and she just loved it, even though a lot of the kids were older and could find the eggs faster.
And here's all the candy she could fit into her little hands from the Easter egg hunt. She was very proud of herself.
And of course, the Easter Bunny came to leave her things in her Easter basket on Easter morning.

This year, she was old enough to open the plastic eggs by herself.
Here she is again carrying as much candy as she can. Seems to be a common theme. She must have been going through a "How much stuff can I carry at one time?" phase.